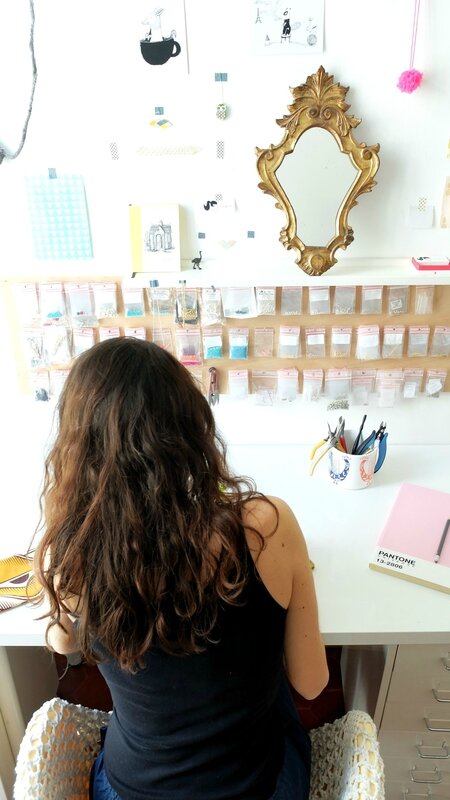 Natasha R. crée et réalise à la main l'intégralité des bijoux dans son atelier marseillais.

Les chaînes et apprêts sont en argent 925/1000 ou en plaqué or Gold filled 14 K

Jewels are created and hand crafted by Natasha R. in her studio from Marseille (France)

Chains and elements are in Sterling Silver 925 or in gold-plated Gold filled
PAIEMENT / PAYMENT
CB - PAYPAL
CREDIT CARD - PAYPAL


-par CARTE DE CREDIT via Paypal / CREDIT CARD via Paypal
Vous ne possedez pas de compte Paypal et ne désirez pas en ouvrir: choisissez l'option
"Vous n'avez pas de compte PayPal ?" et vous pourrez payer avec la carte de crédit de votre
choix sur l'interface sécurisée de Paypal)
If You do not have a Paypal account and if you do not wish to open it: choose the option " You do not have a PayPal account? "
Then you can pay with the credit card of your choice on the secure interface of Paypal
-par PAYPAL / PAYPAL
Vous avez un compte Paypal / You have a PayPal account
/!\ Vérifiez que l'adresse postale renseignée sur PayPal est correcte, c'est à
celle-ci que nous nous référerons pour votre envoi !

/!\ Verify that the mailing address informed about PayPal is correct,
it is this the one that we shall use for your sending
LIVRAISON / SHIPPING
Envoi en Lettre Suivi (France), ou Lettre suivi Internationnal garantissant le suivi
et l'intégrité de la commande
Les bijoux vous seront envoyés soigneusement emballés dans une petite boite.
DELAIS AVANT ENVOI / SHIPPING TIME
Les bijoux sont réalisés à la commande, c'est pourquoi il faut compter 3 à 5 jours ouvrés avant l'envoi (après réception du paiement)
Jewels are handcrafted after the order, thus I send it within 3-5 business days after receipt of payment
FRAIS D'ENVOI / SHIPPING COST
Envoi gratuit pour la France (sans minimum d'achat)
Austria, Belgium, Germany,Italy, Portugal, Spain, Switzerland: 5.95€
Everywhere else: 6.95€
RETOURS / RETURNS

Vous disposez d'un délai de 14 jours à compter du jour de réception de la commande pour me
retourner l'article que vous ne souhaitez pas conserver.
Le ou les produits devront être renvoyés dans leur emballage d'origine. Les frais de port de retour seront à votre charge.
Le remboursement se fera dans les plus brefs délais par chèque ou via paypal.
You have 14 days from the date of receipt of the order for me to return the item you do not want. The Product must be returned in their original packaging. The cost of return postage will be at your expense. The refund will be in the shortest possible time by paypal.
Vous avez des questions concernant le fonctionnement du site: natasha.bijoux@yahoo.fr
You have any questions: natasha.bijoux@yahoo.fr